Overview
The Innovation Grant Fund will promote the increase or creation of revenue streams for Medium Sized Enterprises through the financing of innovative ventures that promote productivity. The grants provided by the Fund aim to support the developments of new products and services, implementation of new business models and entry into new or an expansion of existing markets. It is expected that new employment will result from the growth of the companies financed by the Fund. 
The innovation grant fund will provide grants up to J$14 Million in value.
The projects that are eligible for financing by the Innovation Grant Fund must be INNOVATIVE! 
The following expenditures can be financed by the Program: 
Specialized consultancy services:  market studies, specialized technical assistance and management consulting;

Technology Assessments;

Product upgrading, including product packaging and label design, certification in corresponding regulatory agencies, marketing, production of samples for market testing;

Purchase of key processing inputs;

Inputs and machinery to improve productivity;

Training services;

Equipment purchase and maintenance (laboratory, digital, etc.);

Intellectual or industrial property protection;

Prototyping; 

Knowledge management;

Development of an Innovative Business Plan;
The following outlines the eligibility requirements for the Innovation Grant Fund :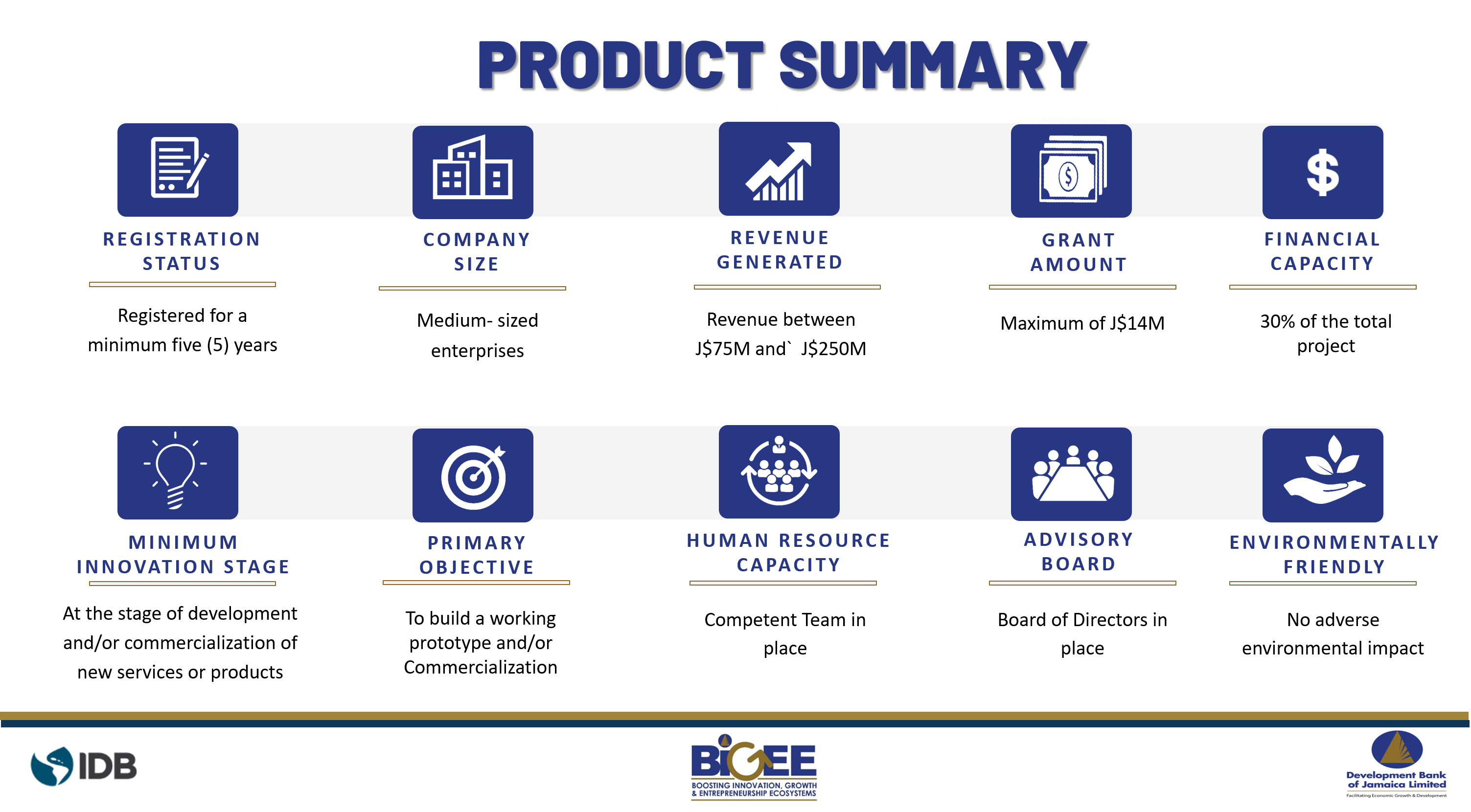 1. How much can I access through this fund?
You can access up to J$14Million in value under the Innovation Grant Fund.
2. How much of the project is the grant able to cover?
The grant will cover 70% of the total project cost. You will need to find the remaining 30% as a counterpart contribution. It must be noted that 50% of your counterpart can be valued in "kind".
3. How long does my business have to be in operation to qualify for this fund?
Your business should be in operation for at least seven (7) years.
4. What type of enterprise can apply for this product?
Medium-sized enterprises that earn an annual revenue between J$75M and J$150M can apply for funding from the Innovation Grant Fund.
5. Must my business be registered?
Yes, your business must be operational for at least seven (7) years.
6. How long before I receive funding assistance?
The timeline varies based on the evaluation process, but as soon as the process is completed, you will be contacted.
7. What is the process to submit my application?
Since each product has a specific application process, we advise you to visit the relevant product page you are interested in applying to access more information.
8. Which sectors are eligible to access this fund?
Businesses in all sectors can apply to the Innovation Grant Fund.
9. What are the interest rate and timeline for the payback of this product?
The Innovation Grant Fund iprovides a grant and not a loan,therefore there is no obligation to repay the fund. However, each successful applicant will be held to meeting specific goals throughout the life of the grant.
10. What are some examples of in-kind contributions?
An in-kind contribution is a contribution of a good or service other than money which includes donated services, donated goods, or labour.
11. Do I have to have an innovative product to apply for this fund?
It is a requirement, to have an innovative product or prototype, to apply for this fund.
12. What stage should the innovation project be?
The innovation product should be at the stage where the prototype or product has been created and tested within the market and has a demonstrated market traction.
Applicants apply through an "Open Window" and will be selected via the completion of a two-stage process – project concept note competition and a business plan competition.
The completed Concept Notes and Business Plans received during the month are evaluated at the end of the following month.